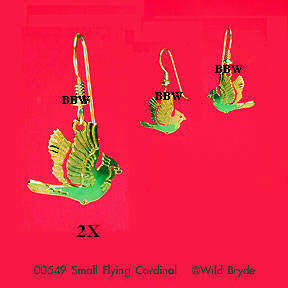 Wild Bryde Small Flying Cardinal Earrings
WB 00549
Small Flying Cardinal Earrings
* Beautiful 14K gold plated hand hammered finish.
* Gold filled earwires
* Produced by skilled artisans in the USA.
* Earrings comes with a lifetime guarantee from the manufacturer.
The picture shows approximate size(large earring is approximately 2 times the size.)
Cardinal lovers will be thrilled to receive these as a gift.