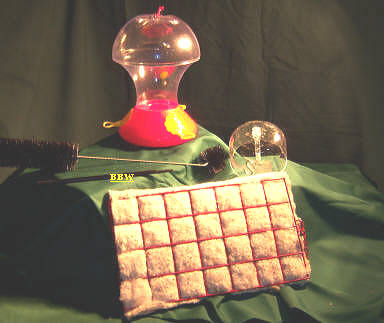 Everything you need to Attract Hummingbirds Pre-Pak Hummingbird Combo
GC-SE900-COMBO
Everything you need to Attract Hummingbirds Pre-Pak Hummingbird Combo
Attract hummingbirds with this great combo of hummingbird products. This is everything you need to feed and attract hummingbirds. The only thing you need to do is make the nectar. You can find the recipe on our hummingbird page. Great gift item too!
Includes:
1 – BCO352 – Hummingbird Feeder
1 – SE610 – Clear Bulk Nectar Protector Ant Moat Keeps ants out of feeder!
1 – SE607 – Hummer Brush Kit
Keeps feeders clean/Attracts more Hummers!
1 – SE7021 – Hummer Helper Nesting Material
A fantastic new product! The only Nesting Material proven to be used by Hummingbirds!
1 – Free Tips Brochure
THIS IS THE WHOLE KIT AND KABOODLE!