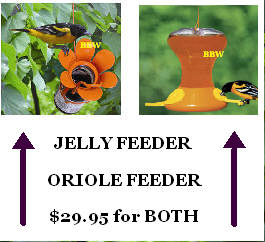 Bird Company Jam Feeder AND Oriole Feeder COMBO Package
BCO212-243
Bird Company Jam Feeder AND Oriole Feeder COMBO Package

You Receive 2 feeders and a GREAT PRICE!

RECEIVE 1 JAM FEEDER
Large Orange Blossom
Attracts Orioles
Fits 10 to 12oz. Jelly or Jam Jars
Hanger System Included
Easy to Use
Easy to Clean


ORIOLES LOVE JAM!

RECEIVE 1 ORIOLE FEEDER FLITELINE 52oz.

3 Feeding Stations
Bee/Wasp Guards
Pole Mount or Hang
Flat Top For Easy Cleaning
Generous 48-52 Oz. Capacity

ORIOLES LOVE NECTAR!

Large Mouth, Snap Apart Base for Easy Cleaning
SUPER DEAL! SUPER PRICE! SAVE MONEY!