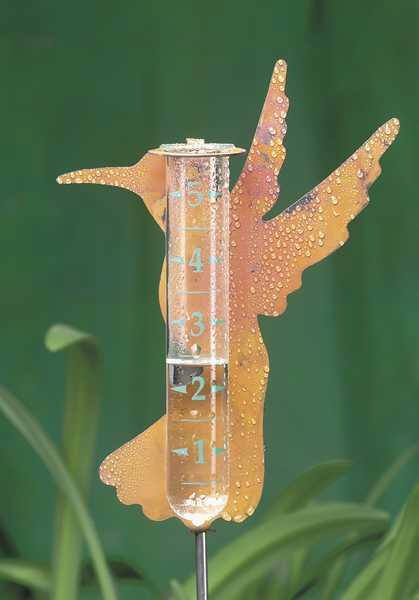 Ancient Graffiti Natural Flamed Copper Rain Gauge - Hummingbird-680
GC-ANCIENT680
Features:
Brass has UV-protective coating
Gauge mounts on 24" steel stake
Steel stake will rust naturally over time
Also handy for monitoring sprinkler use
Easy to place anywhere in lawn or garden
Simple tool for checking rainfall in your own backyard
Measures up to 5" of rainwater in easy-to-read half-inch increments
Simply check daily, then empty the tube to be ready for next day's measurement
To achieve an attractive flamed finish, copper is cut to shape, then heated over an open flame until it glows red. Then it is quenched by plunging it into cool water. As a result of this process no two thermometers are ever alike.
On certain pieces, just a touch of green pigment is added to the protective coating to enhance the appearance. A finish of coating of UV-protectant ensures that the piece will last for years outdoors.
Each thermometer has a brass body supported by a half-round stainless steel bracket which mounts easily with one provided screw and clip.
Approximately 8 inch H x 6 inch W including bracket, depending on design.
Thermometer reads from -30 to 110 deg F (-34 to 40 deg C.)
Boxed for gift giving.