Agua Rain Water Collection and Storage System with 50 Gallon Capacity. The decorative Agua Rain Barrel is made of a roto molded plastic that is able to withstand extreme temperature and will not chip, crack or fade. The rain barrel features:
a unique planter design,
corrosion proof screen guard,
hook for hanging garden hose
a 4-foot garden hose with shut-off nozzle.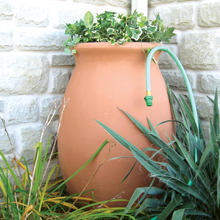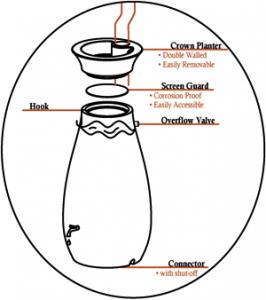 The Agua Rain Barrel Terra Cotta combines the timeless aesthetic elegance of ceramics with the enduring longevity of modern plastics. It is made of a roto molded plastic that is able to withstand extreme temperatures and will not chip, crack or fade.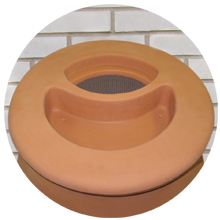 The 50 gallon rain water barrel has strength and durability while adding a beautiful focal point to your eco-friendly lifestyle with its nicely rounded urn look. This rain barrel is not only beautiful in its own right but lets you add another level of garden decor with its unique crown planter on top. A corrosion proof screen guard to prevent debris from entering and clogging the drain.
An overflow valve keeps the barrel from filling too full and interfering with the planter. To direct the water away from your house you can attach a small hose to the valve and direct it into a garden or your lawn. Or place two barrels side by side and connect the overflow valve from one into the bottom drain of the second and collect more usable water! Adding to its ease of use is a unique hose dispensing system. The 4 foot garden hose (included) attaches to the drain in the bottom and has a shut-off connector. Having the hose drain on the bottom gives maximum water pressure in the hose. A hook on the side holds the hose neatly in place.
Size: 33 inches H X 27 inches W
More than 70% of the Earth's surface is covered in water – but only 2.5% of this supply is considered fresh water. The rest is found in the form of salt water in oceans. Of the freshwater that exists, most is locked up in glaciers and ice caps.
Unfortunately, much of the small amount of freshwater is in danger of drying up through desertification or becoming too contaminated for human consumption.
Changing our habits of water use can help abate this growing problem. Installing the Agua Rain Barrel will help to reduce the amount of freshwater consumed for outdoor use.
The contemporary Agua Rain Barrel holds 50 gallons of water and was designed with the person who cares about the appearance of their garden as much as they care about conserving water. It is both aesthetic and practical. Made of roto-moulded plastic, this rain barrel is able to withstand harsh temperature changes and is guaranteed to not chip, crack or fade.
Easy to install, this rain barrel is ready in minutes!
FREE SHIPPING
NOTE: handling charges may apply for large orders.