DELUXE Squirrel Stopper SQC05 Squirrel Stopper Pole and Baffle Set
The original heavy duty Squirrel Proof Pole and baffle system.
STOP SQUIRRELS from raiding your feeder.
This bird feeder system is truly a Squirrel Stopper!
Hang your feeders on this pole and squirrels can't get past the floating cylindrical baffle to get to the seed. An ingenious, patent-pending squirrel-stopping baffle is built into this pole design. The center cylinder rocks from side to side and up and down and squirrels can't climb past. Assembles in minutes without tools. Screw in post for easy installation. Decorative bird topper accent.
Rust resistant.
Two Year Manufacturer's Warranty.
Each arm holds up to 30 lbs. 36 x 36 x 8 feet.

The inverted cone shape of the Squirrel Stopper's shroud is virtually impossible for critters to grip onto, and spring-torsion technology allows the shroud to simultaneously move up and down, plus side to side.

SQUIRREL STOPPER ASSEMBLES IN MINUTES WITHOUT TOOLS!!

1. Set auger onto ground and screw lower section into ground.

2. Twist and lock middle section with attached shroud (Baffle) onto lower section.

3. Slide 1" horizontal tubes through holes in top section.

4. Twist and lock top section onto middle section.

5. Hang your bird feeders and start feeding ONLY the birds!

Complete Bird Feeder Pole System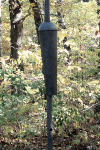 This unit now can hold up to 8 feeders. Four additional hanging loops have been added. How the Squirrel Stopper System Works
The secret is the free-floating baffle. Previous unsuccessful products had baffles that only move from side to side. The Squirrel Stopper baffle moves side to side and also up and down by way of three stainless steel springs. The squirrel (or raccoon) leaps up to the baffle and attempts to grab on, which is very difficult because the surface is slippery and is shaped like an inverted cone. The critter's weight works against him as gravity pulls him down. If he somehow manages to grab hold, the baffle whips down and shakes him off. No other product has this patented vertical movement, and this is why the Squirrel Stopper is 100% effective. But don't worry about the squirrels. They have plenty of food over at your neighbor's house.
The Squirrel Stopper installs easily. First; attach the auger to the lowest pole segment and screw it into the ground. Then attach the remaining two pole segments (the baffle comes already attached to the middle pole segment), slide in the crossbars, put on the decorative top, and you're ready to go in 5 minutes. No tools or shovel are needed!
Dimensions of pole system
8/14" auger
6' above ground
17" of pole in ground for a total in ground of 25"
FREE SHIPPING!
The Story:
For over 100 years, hundreds of inventors had attempted to come up with a product for this purpose. Finally, it was done. Now, 9 years later, the Squirrel Stopper brand is universally recognized as the leader in environmentally friendly, humane, squirrel-deterring products. To date, over 33,000 Squirrel Stopper Bird Feeder Post Assemblies have been purchased, in all 50 states (yes; in Hawaii, too). They have been sold in 8 major catalogs and in many hundreds of birding specialty stores across the U.S. And not one squirrel has beaten it. It is 100% effective! One raccoon, in 2008 in New Hampshire, succeeded once. And that's it. Almost perfect.
So save money and precious time. Your Squirrel Stopper unit will pay for itself over and over and over again. Your bird seed will last 2-3 times longer (so you will have many fewer trips to the feeders). Your feeders will last longer because only birds will be using them. You'll still see squirrels, but they'll be down on the grass where they belong. And you'll see more birds than you've ever seen before; which is one of the great pleasures of life.
NOTE: Ships to lower 48 US states only.
Available in Black or Bronze Finish at checkout!